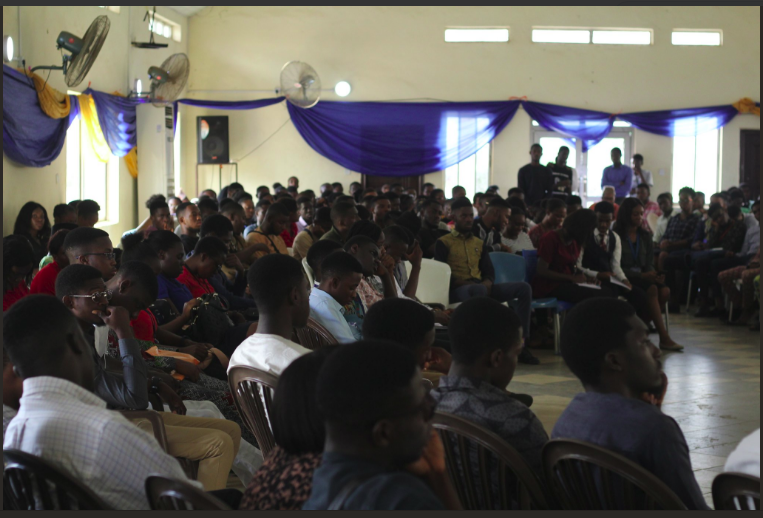 2018-10-25 15:17:23
BUCC DEV-MEET UP
---
On September 26th 2018, Babcock university's Computer department also known by the alias BUCC hosted a software meet-up where representatives from Node.JS Nigeria and Andela Software were present, the meet-up was quite engaging and fun, the representatives both shared their pre-success stories they didn't sugar coat the world of software and computer science leaving us all the more prepared and grounded to face the real world.
A lot was said but I still remember a few choice quotes.
"Be aware of your strengths before you start to show yourself – @OneJsNinja" – By this he was trying to make it known to us that a lot of people dabble in things that aren't their calling and eventually they flop and a flop in this community can lead you to be blacklisted and if you're blacklisted it could be the end of your career, so we should play around with several things and then find what you're good at and work on it don't flow with the crowd.
"Web development is not the only kind of development you can do. - @OneJsNinja". -With this statement he was trying to debunk the popular notion that web development is the only kind of development people can do and he showed us other kinds of developing such as Dev-Ups, application development, software development, etc. So, we should not have a one-track mind when it comes to development in programming.
"You will never know what you like till you test it, put yourself out there and market yourself. [email protected]"- With this one he let loose a fact that we can never truly know what we like till we try our hand at it, till then we'll be under the illusion that we can't do it. So please try your hand, find what makes you happy.
"Don't be put in a box believing that you can't accomplish everything you want to, you don't have to drop one for the other, you can and you will- @Dim_kyky"-I personally feel like this was one of the hardest hitting if not the hardest quote said at the meetup, she gave the example of her stay in Babcock university when she heard her upperclassman say to her that you can't have a first class and have the knowledge necessary to accomplish work out there in the real world, she said to herself that she could and she would and she proportion the rest of her life into achieving that goal and she graduated with not only a first class but also as the best graduating student of her department and now she has a job with Andela Software one of the leading pan-African software companies with branches spread and spreading around the continent, so yes people you can accomplish all your goals you just have to put in the effort, sort out your time and prioritize. I can say that I personally left there a better, wiser and more determined person because of her words.
"Nigeria is so behind of the world in tech, that the only way to move forward now is not to crawl, walk or run but to [email protected]_kyky"- This was also a deep statement she said this was said to her by her colleague at her workplace, and the statement makes so much sense if we compare ourselves in the area of computerization and automation to other countries, even it's not only till recently that Nigeria started taking the concept of IT seriously and has started investing in it cause it is aware it would be left so far behind that it just might no longer be able to catch up, "so yes Nigeria be not limited or held back by your current situation but lace up the boots of the youth, train them, encourage them and set them on that path that your old ones could never travail and wait for success", and this is what Andela is investing in "The Youths", training them in coding, enabling them to fend for themselves, giving them useful and contributive skills in this day and age with the ultimate goal of pushing Nigeria into a new age of technology. "#SPRINTNIGERIA!".
A key topic that was also talked about was mentorship, they encouraged us to go meet capable, serious people, contributors in their field and learn from them, these people have the torch for a reason learn from them so they can pass it on.
All in all, the meet-up, the experience was top-notch, I believe that this kind of events should be held more often than not and I'll advice my readers to attend the next one.
#Enoch that spoke!
Note: Only twitter handles were used to tag the speakers, check them out on twitter and follow, like, re-tweet.
Follow me @luffyskidbro
Follow Bucc @bu_computerclub.
---